I'vre always loved (and dreaded having to battle) the ghosts in the Heroes games. But I can't stand the torture devices on the heads and arms of the Heroes 5 ghosts. So I've been doing some retexture work, gradually removing the shackles, chains and other torture devices from the ghosts. I'm close now, and should be ready to release these soon. One ghost still has spikes in it's head, and sometimes a bit of some edges of the torture devices show when the ghosts move. So I still need to fix that. Also I need to get the bottom of the robes alpha-channeled again so it has that nice frayed look.
Here's some pics of the current stage.
Original and Current Stage Comparison: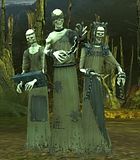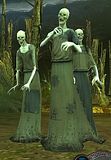 And some more screenshots: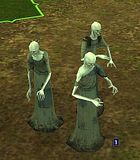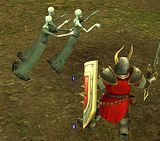 This will be a simple texture replacer, and it works with HoF as well as the original game.